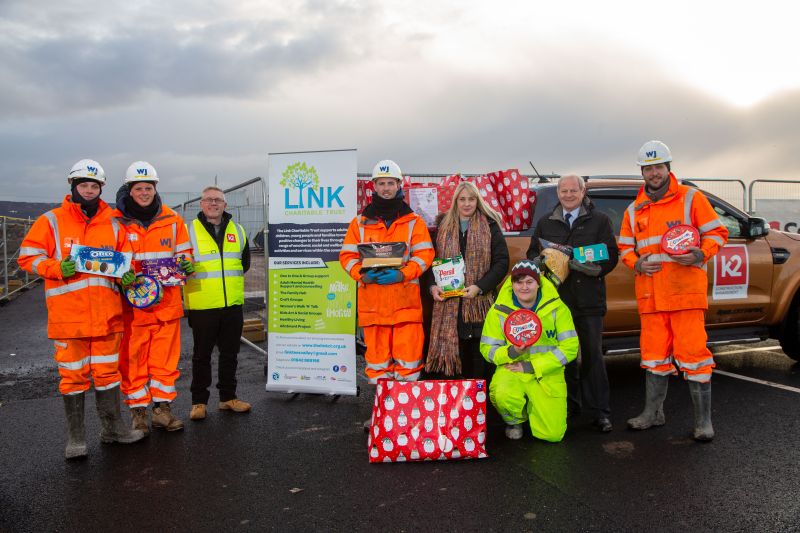 Rainton Construction is proud to support K2 Construction Management and its project partners for a local charity's urgent Christmas Hamper Appeal. More than £4000 has been raised in just three weeks following a chance meeting at a networking event.
The Link Charitable Trust, based in Redcar's The Palace Hub, support the over 60's, care leavers, children, and families as well as those suffering from emotional wellbeing and mental health issues. At the initial meeting, the Trust expressed the time-critical plight of needing to fulfil initial requests for more than 260 hampers from local people in need, fully aware that they anticipated the demand to exceed 500 in the lead up to the festive period.
The funds raised have smashed the initial target of £750 ensuring the charity can reach everybody they need to this year and will also enable them to replenish their food bank for the start of next year.
Rainton Construction is part of the project delivery team for K2 Construction Management, developers of the mammoth £450m SeAH Wind monopile manufacturing facility at Teesworks. It is game-changing for our region and the project team is committed to making a huge impact on local people's lives through employment and community engagement.
We are incredibly grateful for the wonderful support and kindness we have received from all the businesses involved in this fundraising appeal. The way everyone has come together in such a short space of time shows wonderful community spirit. This year more than ever is a struggle for so many people and the money which has been raised alongside the gifts donated will allow some of the most vulnerable people in our community to have a happier Christmas. The amount raised exceeded the target for the Christmas hamper appeal and so will allow us to replenish our food bank over the winter months including providing blankets and winter warmers for the homeless. Any leftover funds will go towards the group activities we provide. It is these acts of kindness that allow us to continue with our work.
Hannah Moloney, Business Manager from The Link Charitable Trust