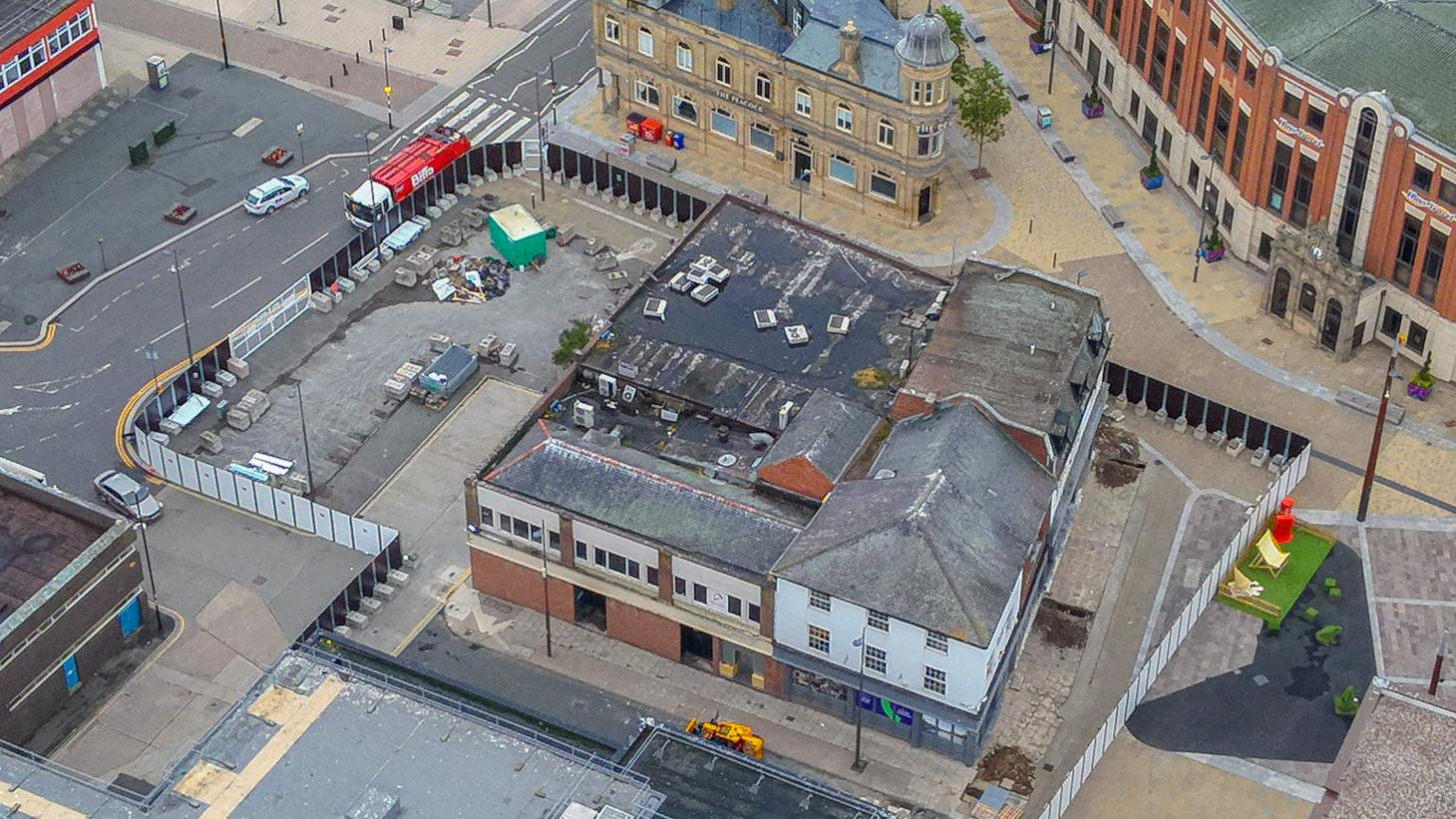 Demolition work that will pave the way for the arrival of a multi-million-pound cultural space is underway in Sunderland. The former Corner Flag pub and connected buildings – 275, 278-284 High Street West – standing on the southern edge of Keel Square are to be cleared this month by contractor MGL Demolition to make way for Culture House, a £27m visitor attraction.
A contractor is expected to be appointed over the next few weeks to begin construction of the exciting city venue early next year, once demolition is complete. Work has been underway for some months to disconnect utilities from the premises and prepare the building for demolition.
Plans for Culture House – which represents the most significant investment in culture in the city for a generation – were approved in March with the venue set to form a key part of the wider Riverside Sunderland development, which comprises residential, leisure and commercial developments.
"Culture House will be the jewel in the crown of the Riverside Sunderland development, a fantastic place for residents and visitors to enjoy. I'm thrilled to see demolition work begin, which will prepare the area for this important construction project to get underway. "We have had tremendous feedback from residents and community groups on our plans for Culture House, so it's brilliant that we're taking this major step forward to deliver this significant addition to the city centre."
Councillor Graeme Miller, leader of Sunderland City Council
Culture House will be an inspiring new community hub for people of all ages and interests to come together in engaging, dynamic and digitally-powered spaces, that will surprise and delight all who visit. The building, expected to open in 2024, will use the latest technology to inspire curiosity, creativity and connection among the 500,000 people who visit each and every year, taking their minds on a journey while their feet remain firmly in the heart of Sunderland, in this landmark new public-asset.
Positioned at the heart of Riverside Sunderland, Culture House will be a colourful, creative and playful space that fires imaginations and inspires new ways of thinking and living. It will include immersive digital spaces that will enable stories to be told in exciting new ways, a Food Lab, to explore new and different foods; a library for the 21st Century – a vibrant learning space where ideas come to life through digital technology, and stories explode into real life through play; plenty of spaces for community groups to come together; and creative spaces to encourage making and learning through play and activity.
The building has been designed by FaulknerBrowns Architects and has been supported with Future High Streets Funding, which is in place to help places transform high streets to ensure they're fit for the 21st Century.
MGL Demolition is undertaking demolition works. The company is part of MGL Group and has extensive experience of delivering high-quality, sustainable services to facilitate regeneration.
"We're delighted to be working on the demolition of a building that will pave the way for an exciting new development in Sunderland. The scale of change across the city is incredible, and it's good to be able to play a part in clearing the way for such an important new development to go ahead."
Mark Davison, joint chief executive at MGL Group
Culture House is part of an ambitious programme of development projects in the Riverside Sunderland area that, taken together, aim to double the residential population in the city centre and increase employment by 50 per cent and also fits with the city's housing strategy, which will see 7,000 new homes build by 2030.